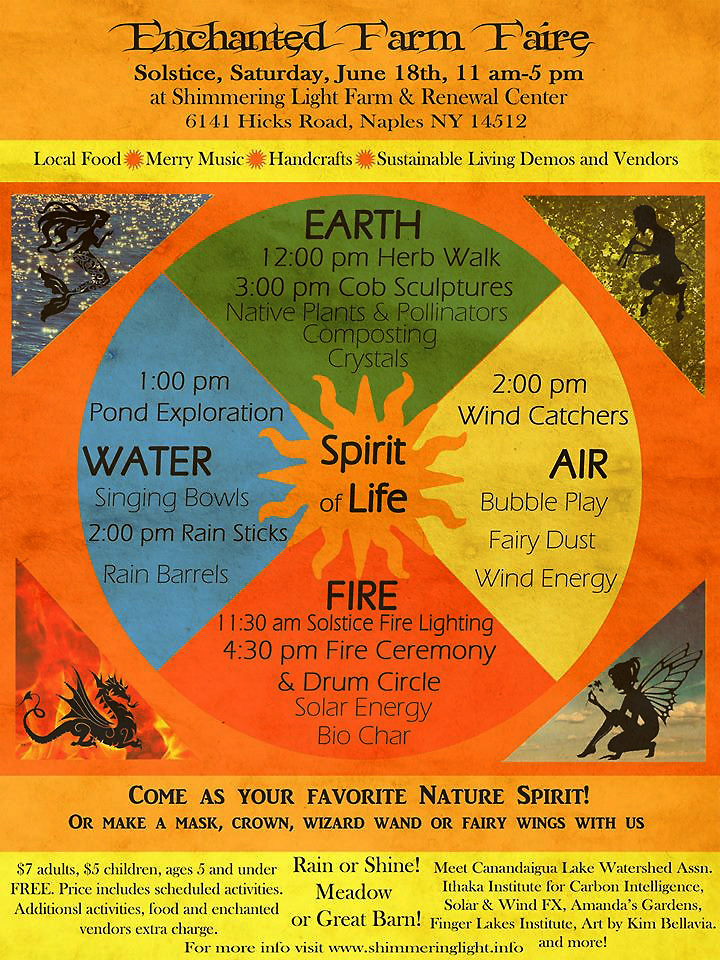 See Kim's Artwork at the Enchanted Farm Faire
Solstice • Saturday, June 18th • 11:00 am to 5:00 pm
at Shimmering Light Farm & Renewal Center
6141 Hicks Road, Naples NY 14512
Local Food • Merry Music • Handcrafts • Sustainable Living Demos • Vendors
Spirit of Life
Fire
11:30 am Solstice Fire Lighting
4:30 pm Fire Ceremony & Drum Circle

Solar Energy • Bio Char
Earth
12:00 pm Herb Walk
3:00 pm Cob Sculptures

Native Plants & Pollinators • Composting • Crystals
Water
1:00 pm Pond Exploration
2:00 pm Rain Sticks

Singing Bowls • Rain Barrels
Air
2:00 pm Wind Catchers

Bubble Play • Fairy Dust • Wind Energy
Come as Your Favorite Nature Spirit!
OR MAKE A MASK, CROWN, WIZARD WAND OR FAIRY WINGS WITH US
Rain or Shine! Meadow or Great Barn!
$7 adults, $5 children, ages 5 and under FREE. Price includes scheduled activities, additional activities, food and enchanted vendors extra charge.
Meet Canandaigua Lake Watershed Association, Ithaka Institute for Carbon Intelligence, Solar and Wind FX, Amanda's Gardens, Finger Lakes Institute, Art by Kim Bellavia and More!
Event Schedule:
Saturday, June 18, 2016 -

11:00am

to

5:00pm
Location:
Shimmering Light Farm and renewal Center